Bulletin No.: PIP5598
Published date: 10/9/2018
Preliminary Information
PIP5598 Diagnostic Tip: Possible Crank No Start Or Extended Crank No Codes
Proactive Models
| | |
| --- | --- |
| Involved Region or Country: | North America |
| Condition: | Possible Crank No start or Extended Crank No Codes |
| Cause: | Possible exhaust camshaft reluctor out of phase |
Correction:
Complete latest diagnostics in service information for "Engine Cranks But Does Not Run".
If unable to determine root cause of no start condition using published SI diagnostics proceed with the following.
Remove cam cover assembly and perform steps below to con rm exhaust camshaft reluctor orientation. During disassembly the vacuum pump drive lugs should also be inspected for damage. (Photo below show damaged vacuum pump drive lugs)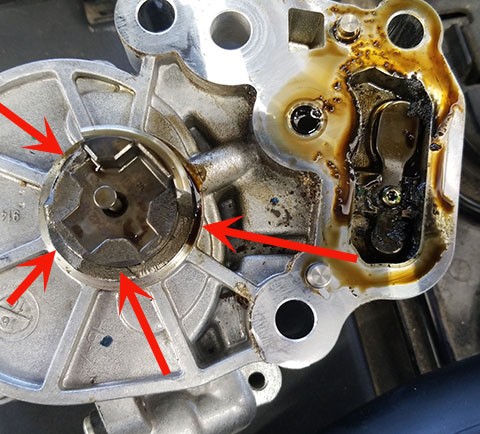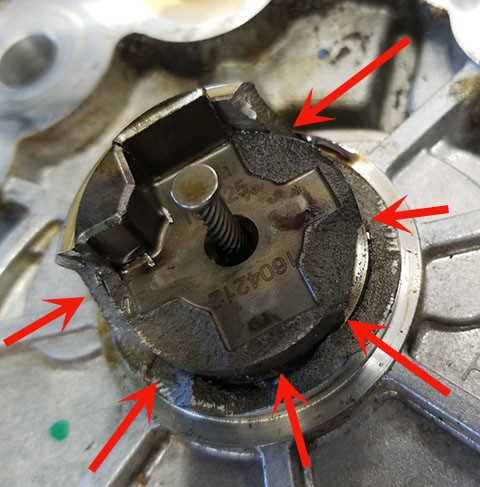 Rotate the exhaust camshaft to position the 2D matrix marking on the camshaft hex in the 12″o'clock position. (Reference photo below for 2D marking.)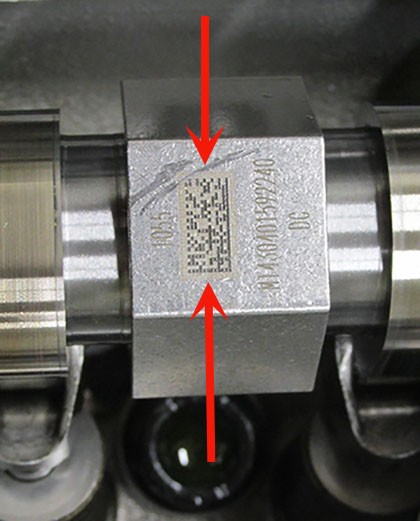 Once the exhaust camshaft 2D matrix has been positioned at 12″O'clock. Verify the small tang located on the camshaft reluctor ring (Arrows below showing tang on reluctor) is inline with the 2D matrix marking. Also shown are additional reference points used to verify exhaust cam reluctor orientation to camshaft.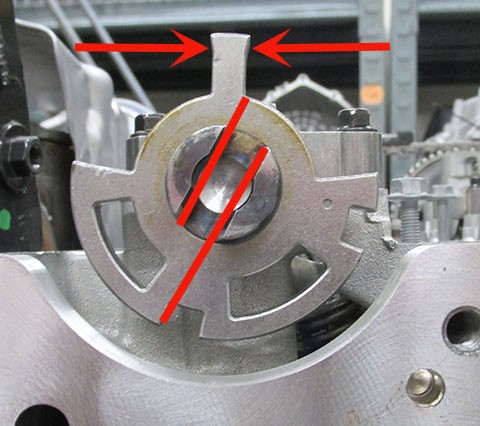 Photo below is showing the proper relationship between the 2D matrix marking and the small tang on exhaust cam reluctor wheel.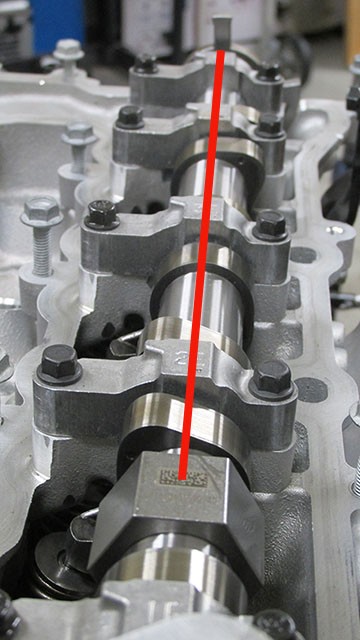 If you find the vacuum pump drive lugs are broke and/or the exhaust camshaft reluctor is out of position then replacement of the exhaust camshaft and vacuum pump will be required.
Note: If needed, It will also be necessary to locate and remove the broken vacuum pump drive lugs and other metal debris during repairs.
NOTE: This is a preliminary temporary diagnostic and repair. As more investigation information becomes available this PI will be updated or advanced to a bulletin.
Version History
| | |
| --- | --- |
| Version | 1 |
| Modified | 10/08/18 – Created on |
---
Bulletin No.: PIP5598
Published date: 10/9/2018
https://www.nhtsa.gov/recalls?nhtsaId=10147358
https://static.nhtsa.gov/odi/tsbs/2018/MC-10147358-9999.pdf
---
Sale
Bestseller No. 1
Sale
Bestseller No. 2
Bestseller No. 3
Valvoline SynPower 5W-30 Full Synthetic Motor Oil - 5qt (787007)
Excellent engine cleanliness through superior sludge and varnish protection
Outstanding high-temperature protection under severe driving conditions and superior cold-temperature protection through faster oil flow at start-up
Helps maintain fuel efficiency
Meets the performance requirements of virtually all naturally aspirated, turbocharged and supercharged passenger cars operating in North America
For any product use or product technical questions call 1-800-TEAM-VAL
Sale
Bestseller No. 4
Sale
Bestseller No. 5
Castrol 03087 EDGE Extended Performance 5W-30 Advanced Full Synthetic Motor Oil, 5 Quart
20,000 miles between drain intervals guaranteed*
Recommended for severe applications such as towing and hauling, high performance driving, frequent short trips or idling, dusty, humid or extreme temperature environment
Engineered with fluid titanium technology that offers maximum strength under pressure
Reduces metal-to-metal contact across a range of different driving speeds. Protection: Proprietary titanium additive provides unsurpassed wear protection
Sale
Bestseller No. 6
Bestseller No. 7
Sale
Bestseller No. 8
Sale
Bestseller No. 9
Sale
Bestseller No. 10
Last update on 2019-04-18 / Affiliate links / Images from Amazon Product Advertising API
Last update on 2019-04-18 / Affiliate links / Images from Amazon Product Advertising API