Bulletin No.: PIP5320G
Published date: 10/9/2018
Preliminary Information
PIP5320G (EREV2) Drive Motor Generator Control Module (PIM) Part Restriction
Models
Supersession Statement
This PI was superseded to add Pictures. Please discard PIP5320F.
The following diagnosis might be helpful if the vehicle exhibits the symptom(s) described in this PI.
Condition / Concern
As part of our ongoing quality improvement process, effective August 1st, 2015 the (Drive Motor Generator Control Module, also known as PIM) for the EREV, part number 24275450 and 24286539  is being placed on restriction through the GM TAC (Technical Assistance Center).
Note: If the part is being ordered for a non-warrantable concern (i.e. collision, theft, re..etc) proceed directly to step 5 below (Valid VIN and proof of ownership required).
Recommendations / Instructions
1) Please have a Volt technician follow the procedures below prior to contacting TAC.
IMPORTANT Note: Do NOT erase DTC's in any of the modules (Especially on intermittent concerns.) and do NOT attempt to reprogram software!
2) Check and record all diagnostic codes in all modules on the vehicle.
3) Be sure to record what module the DTC came from and any symptom codes associated with the DTCs (see latest version of bulletin 07-07-30-010 for snapshot information).
4) If DTC's are set in any of the modules below, please save the captured data for later use.
Hybrid Control Module
Hybrid Control Module 2
Motor Control Module 1 & 2
Auxiliary Transmission Fluid Pump Control Module.
5) Once the above information has been obtained, please review all P.I and TSB information and all available S.I. diagnostics.
6) If diagnostics lead to PIM replacement, contact TAC @ 877-446-8227(U.S.) or in Canada 1-800-263-7740 (English) or 1-800-263-7960  (French) to review case details. Please have as much stored DTC and snapshot information as possible prior to contacting TAC.
7) After reviewing the diagnosis, if component replacement is needed, TAC will arrange for ordering of the new component and request that it be shipped overnight.
NOTE: After reviewing the diagnosis, if component replacement is needed, GM Goodwrench TAC will arrange for ordering of the part(s). When this occurs, record the last 9 digits of the TAC case # to be used by the parts department (in conjunction with the part #) as the CONTROL NUMBER to track shipment of the part. It is not necessary to call TAC for part tracking information.
If TAC releases the PIM you will May also need to order the parts below to install the Drive Motor Generator Control Module Please note that the Bolts are Ship Direct Parts.
Please Check Service Information for the Lasted on parts needed for install.
TPIM Return Packaging Guidelines
Using the intended box size (11"x19"x10") and packing material is strongly preferred
Use adequate packing material for the box size to minimize freedom of movement
Place a absorbing rag between the lower packing material and the bottom of the TPIM
Include the protective white cover for the large terminals
Damaged units from inadequate packaging will incur chargebacks

Good Packing

Bad Packing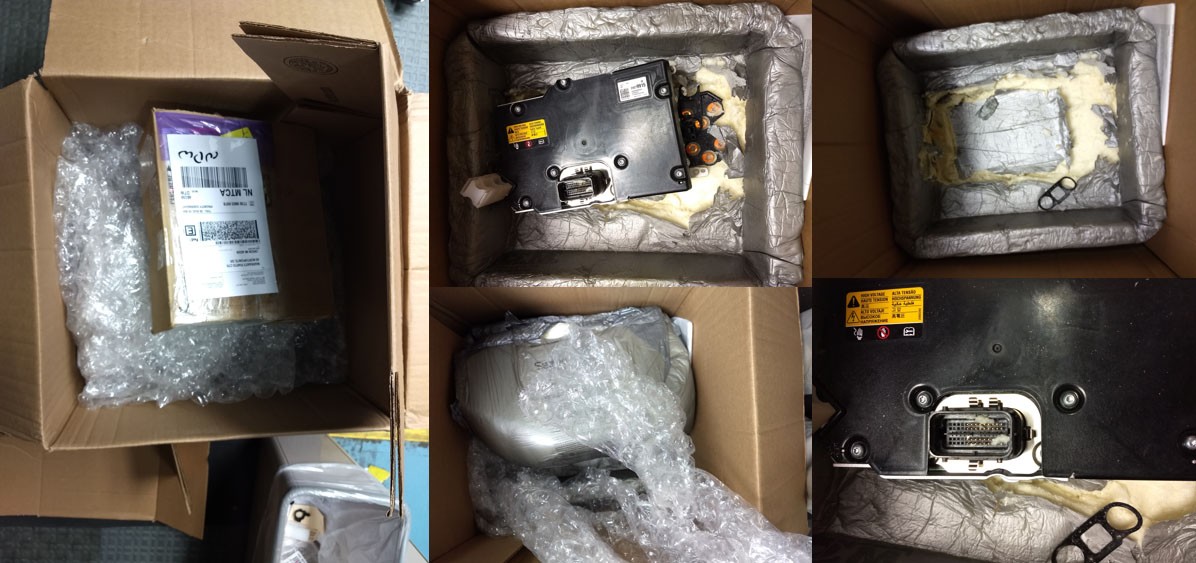 Parts Information
| Model Year | Description | Part Number | Qty |
| --- | --- | --- | --- |
| 2016-2019 | T6 Power Inverter Module | 24286539 FSU 24291216 | 1 |
Warranty Information
For vehicles repaired under warranty use:
| Labor Operation | Description | Labor Time |
| --- | --- | --- |
| 8464700 | Drive Motor Generator Power Inverter Module Replacement | Use Published Labor Operation Time |
Please follow this diagnostic or repair process thoroughly and complete each step. If the condition exhibited is resolved without completing every step, the remaining steps do not need to be performed.
---
Bulletin No.: PIP5320G
Published date: 10/9/2018
https://www.nhtsa.gov/recalls?nhtsaId=10147361
https://static.nhtsa.gov/odi/tsbs/2018/MC-10147361-9999.pdf
---
Bestseller No. 1
ACDelco 10-9395 Dexron VI Automatic Transmission Fluid - 1 gal
Backward compatible with previous DEXRON automatic transmission fluids and can be used as a much-improved replacement for older vehicles/transmissions originally using previous DEXRON fluids
Improved performance over previous DEXRON fluids in: friction durability, viscosity stability, aeration and foam control, and oxidation resistance
Potential to enable improved fuel economy and longer transmission life
Provides for extended drain intervals
Sale
Bestseller No. 2
Sale
Bestseller No. 3
Bestseller No. 4
Bestseller No. 5
Bestseller No. 6
Valvoline MaxLife Full Synthetic Multi-Vehicle Automatic Transmission Fluid - 1gal (Case of 3) (773775-3PK)
Full Synthetic formulation features advanced additives to help extend transmission life
Recommended for Dex/Merc, Mercon LV, and many more specs
For any product use or product technical questions call 1-800-TEAM-VAL
Valvoline has conducted extensive in-house testing, independent lab testing, and field-testing to support MaxLife Multi-Vehicle ATF performance in the broadest range of transmissions; however, it should be noted that MaxLife Multi-Vehicle ATF is not an OEM licensed product. The respective vehicle manufacturers have neither evaluated nor endorsed MaxLife Multi-Vehicle ATF in these applications. If an OEM licensed product is preferred we recommend Valvoline DEXRON VI, Valvoline ATF+4 and Valvoline MERCONV for the corresponding applications.
Bestseller No. 7
Sale
Bestseller No. 8
Sale
Bestseller No. 9
Sale
Bestseller No. 10
Triax Global Synthetic ATF - OEM Grade Compatible with Allison TES 295, BMW, Audi, Mercedes Benz, VW, Honda, Toyota, Nissan, Chrysler +4, Ford Mercon V/LV, Dexron VI, Nissan, ZF 6HP
Extreme performance OEM grade ATF for 99% of the vehicles on the market. Works for ALL non-CVT / non-Dual Clutch transmissions. Otherweise works for all BMW, Audi, VW, Lexus, Toyota, Acura, Hyundai, etc
Lower transmission operating temperature, excellent gear scuffing protection, flawless shifting
Compatible with FORD XL-12 Case Fluid, BMW LT 71141, Allison TES 295, TES 389, MERCON V, Dexron VI, JEEP ATF+3, ATF+4, KIA SP-III/IV, Mazda ATF MIII / MV, Nissan Matic D/J/K/S/W - see complete spec pictures of spec sheet. - FORD XL-12 Transfer Case Fluid - This product replaces Ford OEM Transfer Case fluid as well.
LIFETIME fill - does not require changing unless manufacturer (OEM) specifies a particular drain interval.
Exceptional torque transfer (dynamic friction) and clutch-holding (static friction) performance, Superb protection against rusting and corrosion
Last update on 2019-04-18 / Affiliate links / Images from Amazon Product Advertising API
Last update on 2019-04-18 / Affiliate links / Images from Amazon Product Advertising API