Bulletin No.: PIC6336
Published date: 07/18/2018
Preliminary Information
PIC6336 Folding Top Service Tips to Prevent A Broken Rear Glass Assembly
Models
Brand:
Model:
Model Years:
VIN:
Engine:
Transmissions:
from
to
Chevrolet
Camaro
2016 – 2019
All
All
All
All
| | |
| --- | --- |
| Involved Region or Country | All |
| Additional Options (RPO) | CM8 – Power Folding Top |
| Condition | Some technicians may comment that the back glass, which is an integral part of the folding top canvas, had broken after cycling the folding top assembly.  This will be noticed very soon after a folding top canvas or a side rail has been replaced for service. |
| Cause | The cause of this concern may be due to improper reassembly of the folding top linkage where it connects to the back glass. |
Correction:
If this concern is encountered, dealership technicians are to first inspect the linkage that connects the folding top frame to the back glass that is attached to the folding top canvas.
The most common issue seen is mistakenly putting the top linkage on the inboard side of the back glass attachment point.
This creates additional stress on the back glass.
In this condition, when the top is operated several times, the back glass may unexpectedly crack or shatter.
This will usually not occur during the first top cycle attempt after service.  Usually, this happens after the folding top is cycled several times.
See photo below of a correctly assembled folding top linkage at the rear glass attachment point.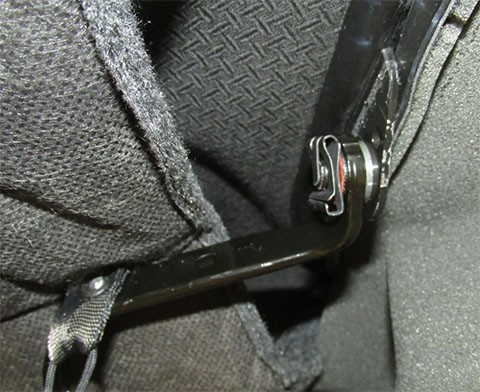 The folding top linkage that attaches to the rear glass MUST be located on the outboard side of the back glass bracket.
The pin that holds it together is inserted from the inboard side of the linkage.
It first goes through the back glass bracket, after that it goes through the top frame linkage.
A gray plastic washer MAY be found in this assembly.  Servicing technicians are to note if this is present during disassembly.
Finally, the spring clip is installed on the outboard side of the top frame linkage.
If it has been determined that this linkage has been correctly reassembled, dealership technicians are to reinspect the cord / strap routing of the entire canvas top.
Under no circumstances will a cord, strap, or eyelet need to be cut, nor will ANY rivets need to be drilled out when replacing the folding top cover on these vehicles.
If this has been done during the removal of the canvas, carefully check over this area, as it is highly likely that the cord or strap in question has not been routed correctly during reassembly of the top.
It may be easiest to obtain a similar Camaro convertible at the dealership and compare the cord routing to a known good vehicle.
Version History
| | |
| --- | --- |
| Version | 1 |
| Modified | Created 07/18/2018 |
---
Bulletin No.: PIC6336
Published date: 07/18/2018
https://www.nhtsa.gov/recalls?nhtsaId=10143765
https://static.nhtsa.gov/odi/tsbs/2018/MC-10143765-9999.pdf
---
Bestseller No. 1
Bestseller No. 2
Bestseller No. 3
Meguiar's G8224 Perfect Clarity Glass Cleaner - 24 oz.
Unique formula spreads and wipes off quickly with superior cleaning ability to tackle even the dirtiest glass
Anti-hazing formula provides long-lasting clarity
Superior cleaning against bugs, tree sap, vinyl fog, road grime, smokers film, and bird droppings
Professional grade formula provides streek-free clarity to all glass
Safe for use on all tinted windows
Sale
Bestseller No. 4
Sale
Bestseller No. 5
Shine Society Glass and Window Cleaner, 100% All-Natural Anti Streak Formula, Made for Tinted and Non-Tinted Car Windows with Microfiber Towel Included (18 oz.)
PROFESSIONAL GLASS CARE: Are you finding fingerprints, streaks, and smudges impairing the view out of your windshield or drivers side window? It's time to use what the pro's use! This glass cleaner was made to deep clean all types of glass to perfect clarity.
ANTI-STREAKING FORMULA: This glass cleaner was designed to eliminate streaks and keep them off! Achieve that transparent clean consistently with this automotive glass cleaner!
DISINFECTANT: All too often we use window cleaners that only remove dirt - which is fine, but Shine Society's Glass Cleaner takes it one step further. This window cleaner will effectively eliminate 99.9% of all germs and bacteria that sit on the surface of your glass or windows!
ALL-NATURAL FORMULA: Made with all-natural and sustainable ingredients, making this window cleaner safe for use around your children and pets.
EASE OF USE: Simply spray on, and wipe off in a circular motion with two separate microfiber towels!
Bestseller No. 6
Bestseller No. 7
Bestseller No. 8
Sale
Bestseller No. 9
Bestseller No. 10
3M 08888 Glass Cleaner 19 Oz
Aerosol application for all glass surfaces
May be used on automotive vinyl and interior plastic
No drip foaming action - clings to vertical surafces and streak-free shine
Streak-free formula puts the sparkle and shine back into automotive glass
Cuts through stubborn grit and grime on windshields and windows
Last update on 2019-04-18 / Affiliate links / Images from Amazon Product Advertising API
Last update on 2019-04-18 / Affiliate links / Images from Amazon Product Advertising API