Bulletin No.: 17-NA-201
Date: February, 2019
---
Service Bulletin
---
TECHNICAL
---
| | |
| --- | --- |
| Subject: | Excessive Windshield Condensation, HVAC Defrost Door Flutter Type Noise Heard |
---
Involved Region or Country
North America and N.A. Export Regions
Condition
Some customers may comment on one of the following conditions:

Vehicles built between October 15, 2015 – March 12, 2016, a flutter type noise may be heard from the HVAC when in manual mode and set to either floor or tri-level mode.
Vehicles built on/after March 13, 2016 may have excessive condensation on the windshield above the center defrost vents.

Cause
These may be caused by one of the following conditions:

Flutter noise may be due to the HVAC door making contact to the case during high fan speed.

Windshield condensation may be due to the foam pads on the defrost door allowing too much air to pass through, causing excessive condensation on the outside of the windshield.

Note: During extreme humid conditions, some condensation can be considered normal.

Additional Information:

In certain settings, the system is designed to bleed air to the windshield to prevent it from fogging/freezing in cold weather conditions where the ambient temperature is extremely cold and the inside cabin temperature is hot.

The best recommendation for customer comfort, and to prevent condensation during hot/ humid ambient conditions and cold cabin air, is to place the AC in "auto" or manually set it to the "bi-level" (floor and vent/face/dash) position. Recommended temperature setting is between 68-72 degrees (20-22°C).

The table shown above helps to explain the air flow distribution.

OSA = Outside Air
Rec = Recirculated Air
F/C = Full Cold
F/H = Full Hot

Correction

An updated software calibration has been released to address the flutter type noise condition.
Remove both foam pads located on the defrost door to address the excessive windshield condensation then update the software to address the flutter issue that results when the foam is removed.
Service Procedure
Flutter Noise:
Reprogram the HVAC system control module with the latest calibrations available on TIS2WEB. Refer to HVAC System Control Module Reprogramming with SPS in SI.
Note: Stable battery voltage is critical during programming. Any fluctuation, spiking, over voltage or loss of voltage will interrupt programming. Install a GM Authorized Programming Support Tool to maintain system voltage. Refer to www.gmdesolutions.com for further information. If not available, connect a fully charged 12 V jumper or booster pack disconnected from the AC voltage supply. DO NOT connect a battery charger.
Windshield Condensation:
Preparation/Tool
Boroscope
Grippers / Fingers tool 4784132
Metal coat hanger / Mechanic wire
Zip ties
12" clear tube 5/16" OD x 3/16" ID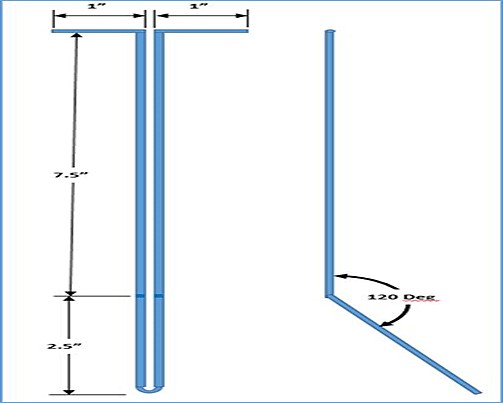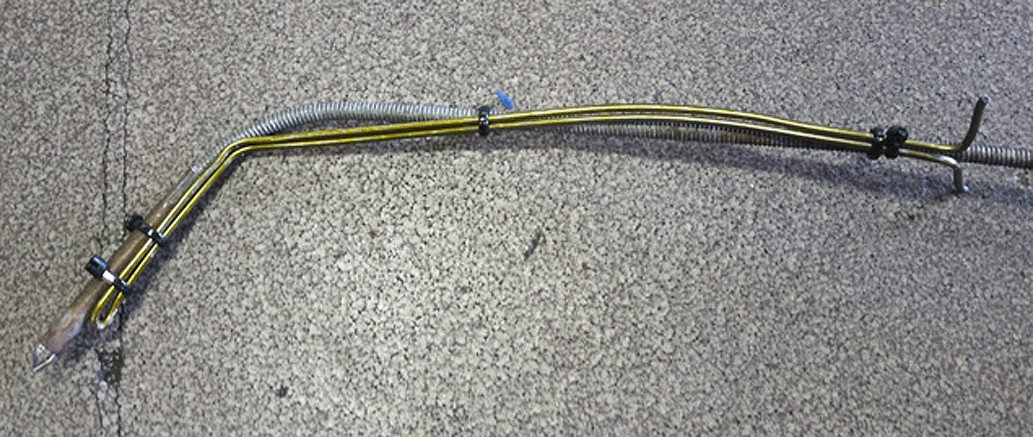 Bend the wire 120°, as shown above, and zip tie the grippers/fingers tool to hold the shape/angle needed to reach the foam pads on the defrost door.
Note: It is important to have the ends of the wire bent outwards to provide a handle to help maneuver the fingers into place.
Remove both windshield garnish moldings. Refer to Windshield Garnish Molding Replacement in SI.
Remove the windshield. Refer to Windshield Replacement in SI.
Place the HVAC mode in "Floor" or "Tri-Level" mode.
Note: This mode will hold the door in the best position to reach the foam pads.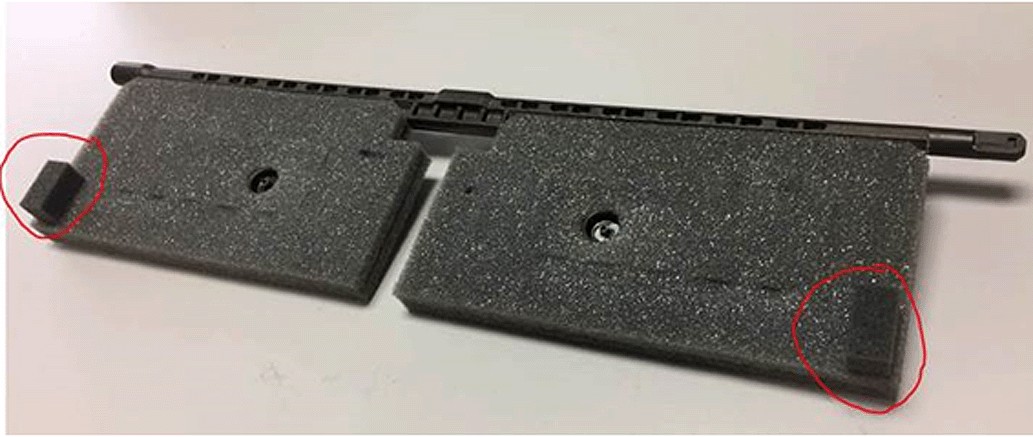 Going through the center defrost vents, position the boroscope so the 10 mm x 10 mm foam pads can be seen.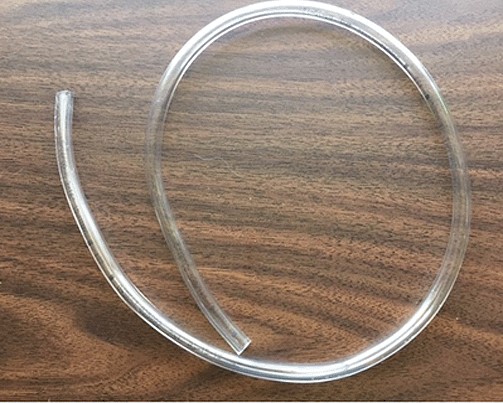 Using the boroscope to view the pad, insert the 12" (30 cm) clear tube (recommend 5/16" OD x 3/16" ID) on top of the foam pad.
Important: DO NOT use more than 1–2 oz. (30–60 ml) of fluid, to prevent excess fluid seeping into the HVAC case. Remove the clear tube as soon as the fluid is absorbed by the foam pads.
Important: DO NOT remove the boroscope.
Wait 60 seconds for the foam pads to absorb the Acrysol.
With the boroscope in place, use the grippers/fingers to grab and remove the foam pad.
Remove the grippers/fingers and boroscope.
Repeat steps 3–9 to remove the 2nd foam pad.
To eliminate any odor from the Acrysol, run the vehicle in the following mode:
11.1 Windows Open
11.2 Tri-Level HVAC mode (all 3 buttons lit – defrost, vent and floor)
11.3 A/C Off
11.4. Blower = max.
11.5. Temp 75 degrees F (24 C)
Reprogram the HVAC system control module with the latest calibrations available on TIS2WEB. Refer to HVAC System Control Module Reprogramming with SPS in SI.
Note: Stable battery voltage is critical during programming. Any fluctuation, spiking, over voltage or loss of voltage will interrupt programming. Install a GM Authorized Programming Support Tool to maintain system voltage. Refer to www.gmdesolutions.com for
further information. If not available, connect a fully charged 12 V jumper or booster pack disconnected from the AC voltage supply. DO NOT connect a battery charger.
Warranty Information
For vehicles repaired under the Bumper-to-Bumper coverage (Canada Base Warranty coverage), use the following labor operation. Reference the Applicable Warranties section of Investigate Vehicle History (IVH) for coverage information.
Labor Operation
Description
Labor Time
2881238*
HVAC System Control Module Reprogramming for Flutter Noise
0.3 hr
4480628*
Removing Both Foam Pads From the Defrost Door
1.5 hrs
*This is a unique Labor Operation for Bulletin use only.
| | |
| --- | --- |
| Version | 2 |
| Modified | February 13, 2019 – Updated the Condition, Cause and Service Procedure. |
---
Bulletin No.: 17-NA-201
Date: February, 2019
https://www.nhtsa.gov/recalls?nhtsaId=10154646
https://static.nhtsa.gov/odi/tsbs/2019/MC-10154646-9999.pdf
---
Approved J2534 Device with TIS2WEB can reprogram 1996 and later All GM Modules.
To obtain the latest electronic controller calibration information for your vehicle, go to https://tis2web.service.gm.com/tis2web and enter the vehicle's 17 character Vehicle Identification Number (VIN) and select 'Get CAL ID'.
You can then compare the latest part number with the actual number installed on the vehicle to determine if a reprogram is needed.
The Service Programming System (SPS) application is part of the TIS2Web system. To program an ECU, the SPS application must communicate with the vehicle control modules using the proper J2534 programming interface tool.
The following are the supported interface tools:
| | |
| --- | --- |
| Bosch EL-52100-AM GM Multiple Diagnostic Interface 2 (MDI 2) Kit | |
| CarDAQ-Plus 2 Diagnostic Code Reader and J2534 Programming Tool | |
| Drew Technologies (DRWCDPLUSKIT) CarDAQ-Plus J2534 Flash Reprogramming Kit | |
| Drew Tech CarDaq-M 2 SAE J2534-1/2 Reflash Reprogramming Tool OEM Diagnostics | |
| Drew Technologies (DRWMONGGM) Mongoose GM Vehicle Interface (VPW/CAN) J2534 |   |
| VSI J2534 ECU Reprogrammer & Diagnostic Adapter | |
| Autel (AULMF2534) MaxiFlash Pro | |
| Dearborn d-Bridge Adapter J2534 OBDII Engineering Tool | |
The Tech 2 supports model years 1996 and beyond. With the addition of the CAN Diagnostic Interface (CANdi) module, Tech 2 is fully backward compatible with current Tech 2 functionality and operates transparently when diagnosing non-CAN-equipped vehicles.
Servicing the next generation Global A vehicles will require the diagnostic software, GDS2, Global Diagnostic System 2 running on a local PC device while the MDI is connected to the vehicle.
The GM MDI is the Global Diagnostic tool for future vehicles starting with Global A vehicles. The GM MDI was introduced in the fall of 2007 for Pass-Thru programming and offers faster programming speed. It can be used to perform Pass-Thru programming on all vehicles built since 1996 and into the future. Click here to view a list of GDS supported vehicles.
Bestseller No. 1
CarDAQ-Plus 2 Diagnostic Code Reader and J2534 Programming Tool
The CarDAQ-Plus2 is the next generation Drew Technologies J2534-1 and J2534-2 device with advanced support for J2534 v05.00 and DoIP.
Features High Speed USB and support for global vehicles.
Meets all of today's SAE J2534 standards.
Rugged plastic case included for safe and convenient transporting.
Free J2534 Toolbox application, online software updates and phone support.
Bestseller No. 2
Bestseller No. 3
Autel MaxiCOM MK908P Diagnostic Tool Automotive Full System Diagnoses Coding and J2534 ECU Programming, The Upgraded Version of MS908P
ECU PROGRAMMING: The diagnostic tool comes with a J2534 ECU programming device that helps Benz and BMW users replace the existing software/firmware in the ECU, program new ECUs and fix software-controlled driving performance and emission issues.
VEHICLE COVERAGE: The software of MK908P has a wide range of compatibility and can be used to diagnose vehicles from over 80 brands in the US, Europe and Asia. Moreover, you can get more newly added car models with the fast-release software update service.
ADVANCED HARDWARE: MK908P, as the advanced version of MS908P, features the 10. 1" 1920*1200 screen upgraded from 9. 7" 1024*768, and the battery capacity is 15000mAh increased by 4000 mA. Also, it has a better anti-impact protection design.
BI-DIRECTIONAL CONTROL: The diagnostic tool supports bi-direction control to check the vehicle operating conditions. The bi-directional control of the ECM in Component Test enables the MK908P to transmit control commands to operate the vehicle systems.
ADDITIONAL SERVICE: The MK908P is designed to serve users with a rich array of easy-to-use functions and features. The Maxi Fix provides you with an online troubleshooter database, and Remote Desk allows you to get help from others via TeamViewer software.
Bestseller No. 4
VXDIAG VCX Nano GDS2 and Tech2Win Diagnostic Programming System for GM/Opel
VXDIAG VCX NANO Box is PC-to-vehicle interface compatible with multiple software applications, minimizing your investment in multiple brand-specific diagnostic interfaces
VXDIAG VCX Nano for GM/OPEL compatible with GDS and Tech2win software, support for GM/OPEL Diagnose and programming,for programming function, you would need buy software subscription online
Fully compatible with SAE-J2534-1 & SAE-J2534-2; Quick access to vehicle data for maintenance or management reports; Support all current and most legacy vehicle protocols: CAN, UART, KW2000, Class2, GM LAN, etc.
Software installation: You can follow our video to finish software installation or contact us to help you install software online or you can try our cloud diagnosis, about cloud diagnosis detail you can check on www.vxdiag.net, you can contact us to get the user name and password for try. Please feel free to contact us if you have any problem on software installation
Tech2win software can only be installed on 32bit computer(win7 or win10 both ok) and please attention Tech2win software can not be installed on virtual machine, need install on physica system
Bestseller No. 5
Autel MaxiSys Pro MS908P Diagnostic Scanner Automotive Scan Tool with ECU Programming and J2534 Reprogramming + Free Oscilloscope MaxiScope MP408
【SUPERIOR CODING & PROGRAMMING】 Supports coding and programming especially for BMW and Mercedes. With the VCI of MK908P for SAE J2534-1 and J2534-2 protocols, it can replace the existing software and firmware in ECU without expensive original equipment.
【WIDE DIAGNOSTIC SOLUTIONS】 Well capable of VCM coding and programming, TPMS coding, intelligent cruise control (ICC), ECU coding, live data, dashboard matching, airbag system reset, anti-theft key matching and more.
【POWERFUL DIAGNOSTIC TOOL】 The oscilloscope MP408 combine with MaxiCOM MK908P is able to measure and test virtually all the electrical and electronic components and circuits in any modern vehicles, providing you an insight to the inner workings of a vehicle's electronic circuits.
【HIGH-EFFICIENCY OF USE】 Being MS908P upgraded, it is Autel's latest and most sophisticated diagnostic scanner which boasts the best hardware including Hexa-CPU, 2GB RAM etc. for fast boot-up and multitasking, and the ergonomic design to resist damage of heavy use.
【WARRANTY & UPDATE】 You can get quality related services within 12 months warranty, besides, 12 months free online update is available for the latest bug fixes and newly added parameters and car models.
Bestseller No. 6
Autel Maxisys Pro MS908P Automotive Diagnostic Scanner With ECU Coding and J2534 Reprogramming (Same function as Maxisys Elite)
Comprehensive OE-Level diagnostic & OBDII services, advanced ECU coding and programming for pro tools;
Designed for professional technicians who demand superior tool features to provide the most performance for their investment
Auto-Vin technology for fast and precise vehicle identification. Autel Maxisys Pro performs the same function as Autel MS908S PRO, MS908E, and provide better price.
Extensive OE-Level vehicle coverage for more than 80 US, Asian and European vehicle makes
Compatible with some add-ons: Oscilloscope-MaxiScope MP408 and Digital Inspection Cameras (MV105 and MV108)
Bestseller No. 7
Autel MK908P Diagnostic Scanner J2534 ECU Programming, Coding, Bi-Directional Control, Complete Systems Diagnoses with MaxiVideo MV105 
SUPERIOR PERFORMANCE:This Android4.4 based high-end diagnostic scanner is designed with the advanced hardware configurations including super-fast hexa-core Processor, 2GM RAM, 64GB On-board Memory, 8.0 Megapixel rear cam, ultra-clear 10.1 inches LED screen etc. It more superior than Autel Maxisys PRO.
ECU CODING/PROGRAMMING: This top-level OBD2 scanner comes with a SAE J2534-1 & -2 compliant PassThru reprogramming interface device which allows you to use the updated OEM software to replace the existing software/firmware in ECUs, programming new ECUs for Benz/BMW and fixing software-controlled drivability issues and emission issues.
EXTENSIVE COVERAGE: This Autel scanner same function as the Maxisys elite, MS908S PRO, MS908E with Full OBD functions, 11 reset functions and full systems diagnoses for codes, live data, actuation test, adaptations, ECU coding ,work on over 80 1996 US-based , 2000 European-based and newer OBD2/EOBD protocol vehicles.
CONSIDERATE COMBINATION: Wonderful for up-close visual inspections in confined areas, such as engine cylinders and small part inspections with MV105, the internal situation will be displayed on the tablet--- more convenient to find the vehicle problems.
DATA MANAGEMENT OPERAION: In order to bring convenience for users to manage all the data and parameters stored in this diagnostic tool, Autel MK908P supports the following user-friendly managing functions: Shop Manager Operation, MaxiFix Operation, Data Manager Operation, etc. to quickly and directly select the required referring information while diagnosing.
Bestseller No. 8
Bestseller No. 9
Autel Maxisys Pro MS908p Wifi Automotive Diagnostic Tool with J2534 ECU Programming Free Updated Online
The MaxiSys Diagnostic Platform is an evolutionary smart solution for specialized automotive diagnosis and ECU programming
Extensive vehicle coverage for more than 80 US, Asian and European vehicle makes
9.7 inch 1,024x768 LED-backlit glossy widescreen Multi Touch display with IPS technology
Complete capabilities for codes, live data, actuation tests, adaptations, coding and ECU programming
One Year Free Update Online, Free Shipping by DHL All Around the World, 3-5 Days Delivery
Bestseller No. 10
Autel Maxisys CV MS908CV Heavy Duty Diagnostic Tool with J-2534 ECU Programming, BT, WiFi Connection
The Autel Maxisys MS908CV is especially made for working on Heavy Duty vehicles. It contains a whole set of heavy duty vehicle connectors and provides access to all the commonly performed service functions: Oil Reset, EPB, Brake Bleeding, DPF & SCR, Immo & keys, Injector Throttle and other regular maintenance functions
The complete diagnostic tool kit includes a compact sized MaxiFlash Elite which performs J2534 and J2534-2 pass-thru programming and provides BT VCI communication between the vehicle and the MaxiSys CV tablet.
The diagnostic scan tool provides the special functions that complete repairs including Injector Quantity Adjustment, DPF Regeneration, Adaptations, Calibrations, Maintenance Resets.
The automotive scanner read and clear codes, view and graph live data, perform tool-guided maintenance services, complete an array of special functions and diagnose manufacturer-specific systems including Allison transmissions, Bendix ABS Brake systems, Detroit Diesel Engines and Eaton and Wabash ABS trailer brakes.
Extensive vehicle coverage for more than 80 US, Asian and European commercial vehicles and industrial machine brands.
Last update on 2019-04-19 / Affiliate links / Images from Amazon Product Advertising API
Last update on 2019-04-19 / Affiliate links / Images from Amazon Product Advertising API