Bulletin No.: PIT5666
Published date: 03/15/2019
---
Preliminary Information
PIT5666 Squeak/Creak/Squawk/Itch Type Noise Heard From The I/P or Center Console Area
Models
Involved Region or Country
North America
Condition
Some customers may comment of a squeak, creak, itch, or rubber type noise heard from the IP dash or center console area. The noise may be duplicated by the following:

Driving over bumps (noise may go away if coasting or if transmission is shifted into "N")
During acceleration

Cause
This noise could be caused by the engine harness rubbing on the floor pan above the transmission (item numbers 4 and 5), as shown below. The photos below were taken from under the vehicle looking up along the driver's side of the transmission bell housing.

Callout 1 – Bank 1 Sensor 1 O2 sensor

Callout 2 – Bank 1 Catalytic Converter

Callout 3 – Front Driveshaft (on 4WD vehicles)

Callout 4 – Engine Harness rubbing on floor pan

Callout 5 – Engine Harness pushed aside to show the contact on the floor pan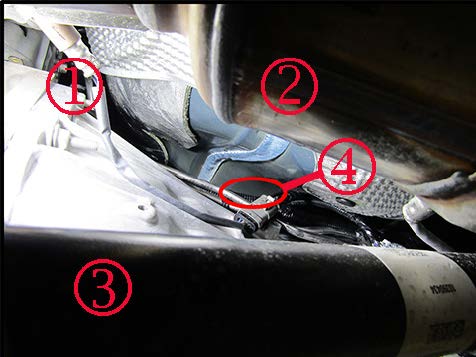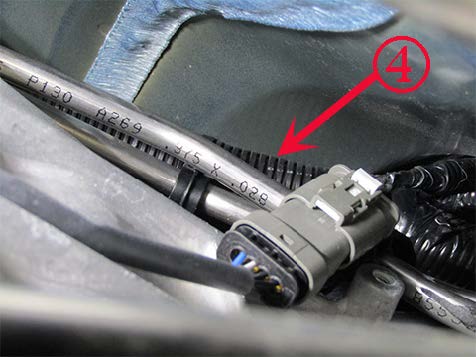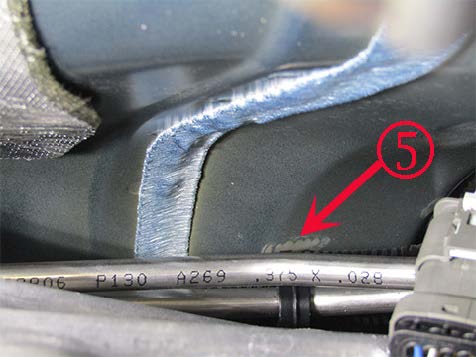 Correction:
Reposition and secure the engine harness down beside the fuel/evap lines so it no longer contacts the floor pan, as shown below. The rear transmission crossmember may need to be removed so that the transmission can be slightly lowered to gain access to the area. To allow enough slack in the engine harness to reposition it down beside the fuel/evap lines, it needs to be moved/repositioned forward in the clips at the rear of the harness above the rear of the transmission/transfer case. First, release the rear harness clips and move/reposition the harness forward in the clips, then lock the clips closed. This will create enough slack in the harness to reposition and secure the harness down beside the fuel/evap lines, as shown below.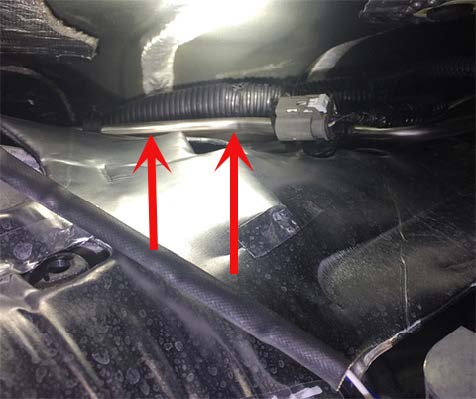 When more information is available this PI will be converted into a Bulletin.
Warranty Information
Labor Operation
Description
Labor Time
5480648*
Reposition Engine Harness Above Transmission includes test driving and R&R Transmission Crossmember
1.0 hrs
*This is a unique Labor Operation for Bulletin use only.
Additional SI Keywords
creek
Version History
| | |
| --- | --- |
| Version | 1 |
| Modified | 03/15/2019 – Created on |
---
Bulletin No.: PIT5666
Published date: 03/15/2019
https://www.nhtsa.gov/recalls?nhtsaId=10156935
https://static.nhtsa.gov/odi/tsbs/2019/MC-10156935-9999.pdf
---
Bestseller No. 1
Bestseller No. 2
Bestseller No. 3
Bestseller No. 4
Bestseller No. 5
Bestseller No. 6
Bestseller No. 7
Bestseller No. 8
Sale
Bestseller No. 9
Bestseller No. 10
Boxiti Heat Proof Wiring Tape 2 pcs - PET Cloth Wire Harness Tape Engine Compartment Compatible (Tesa 51026)
HIGH TEMPERATURE RESISTANCE: Tesa flexible tape has resistance in High temperature of 150°C/3000h.
DESIGNED FOR: Tesa 51026 designed for the engine compartment, providing high abrasion protection.
HIGH QUALITY: Our Heavy duty tape ensures abrasion resistance, tear resistant and remain perfect.
EASY USAGE: Very flexible and smooth, Stable unwind force, strong adhesion and Hand-tear-able.
MONEY BACK GUARANTEE: With Tesa protection tape feel confident with 100% money back guarantee.
Last update on 2019-05-11 / Affiliate links / Images from Amazon Product Advertising API
Last update on 2019-05-11 / Affiliate links / Images from Amazon Product Advertising API