Service Update
18209 Diesel Turbo Exhaust Leak
| | | | |
| --- | --- | --- | --- |
| Reference Number: | N182153520 | Release Date: | June 2018 |
| | | Revision: | 00 |
| | |
| --- | --- |
| Attention: | This service update involves vehicles in dealer inventory only and will expire June 30, 2019. |
This service update should be performed on vehicles in dealer inventory only. Involved vehicles are marked "open" on the Investigate Vehicle History screen in GM Global Warranty Management system. This site should always be checked to confirm vehicle involvement prior to beginning any required inspections and/or repairs.
Parts
It is estimated that less than 1% involved vehicles will require parts replaced. Due to the small number of vehicles anticipated that will need this fix and the limited initial parts availability, dealers are encouraged not to order these parts for use as shelf stock.
Reminder: Parts may be removed from Retail Inventory Management (RIM). Dealers should review the affected parts to confirm RIM managed status. Parts may have quantity limiters in effect.
Warranty Information
| Labor Operation | Description | Labor Time | Trans. Type | Net Item |
| --- | --- | --- | --- | --- |
| 9103921 | Inspect Only – No Further Action Required | 0.2 | ZFAT | N/A |
| 9103922 | Clamp Realignment (without catalytic converter removal) | 0.4 | ZFAT | N/A |
| 9103923 | Clamp Realignment or Replacement (with catalytic converter removal) | 0.9 | ZFAT | N/A |
Service Procedure
Remove the turbo heat shield. Refer to Turbocharger Heat Shield Replacement in SI.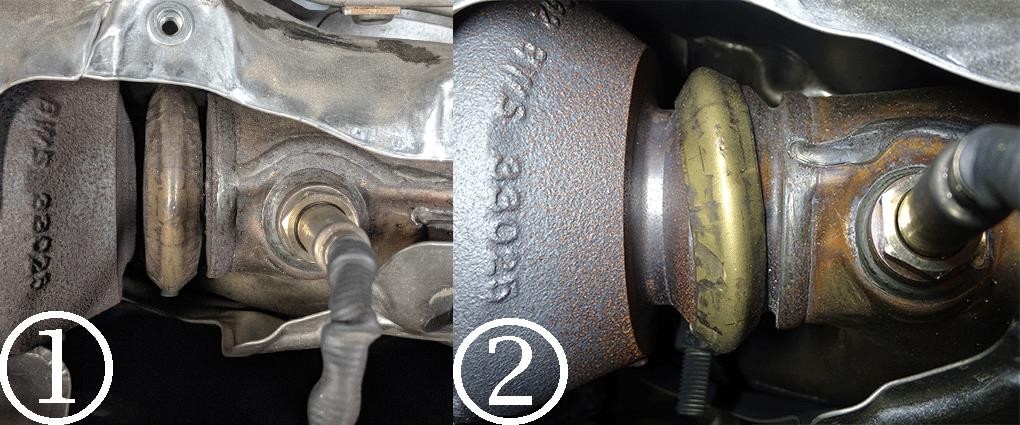 Inspect the clamp between the turbocharger and the catalytic converter with the vehicle running.

If the clamp is properly aligned (1) and there is NO smell of diesel exhaust, no further action is required. Reinstall the turbocharger heat shield.
Note: It may be necessary to remove the catalytic converter to reposition the clamp if the clamp has seized due to heat or corrosion.
If the clamp is misaligned (2) OR you can smell diesel exhaust, reposition the clamp if it is undamaged. If the clamp is damaged, replace the clamp. Refer to Catalytic Converter Removal in SI.
Dealer Responsibility
Dealers must take the steps necessary to ensure that the service update correction has been made to all involved vehicles in dealer inventory before selling or dealer-trading the vehicle, but no later than June 30, 2019.
All new, used, GM Certified Used, courtesy transportation vehicles, dealer shuttle vehicles, etc. in dealers' possession and subject to this bulletin must be held and inspected/repaired per the service procedure of this bulletin before customers take possession of these vehicles. Involved vehicles must be held and not delivered to customers, dealer-traded, released to auction, used for demonstration, or any other purpose.
All GM Certified Used vehicles currently in the dealers' inventory within the Certified Pre-Owned Inventory System (CPOIS) will be de-certified and must be held and remedied per the service procedure in this bulletin. Upon submitting an accepted/paid warranty transaction in the Global Warranty Management (GWM) system, the vehicle can be re-certified for sale within the CPOIS system, or once again be used in the CTP program.
---
18209
June 2018
https://www.nhtsa.gov/recalls?nhtsaId=10143742
https://static.nhtsa.gov/odi/tsbs/2018/MC-10143742-9999.pdf
---
Sale
Bestseller No. 1
Bestseller No. 2
BlueDEF DEF002 Diesel Exhaust Fluid - 2.5 Gallon Jug (4)
Mixture of 32.5 percent high purity synthetic urea and 67.5 percent deionized water
Helps convert nitrogen oxide into harmless nitrogen gas and water vapor for cleaner emissions
Improves fuel economy by up to 5 percent
Inject the fluid into your exhaust stream with a specialized dosing module
Stable, colorless, odorless, and meets ISO standards 22241 for purity and composition
Bestseller No. 3
Bestseller No. 4
Sale
Bestseller No. 5
Sale
Bestseller No. 6
BlueDEF DEF002 Diesel Exhaust Fluid - 2.5 Gallon Jug (5)
Mixture of 32.5 percent high purity synthetic urea and 67.5 percent deionized water
Helps convert nitrogen oxide into harmless nitrogen gas and water vapor for cleaner emissions
Improves fuel economy by up to 5 percent
Inject the fluid into your exhaust stream with a specialized dosing module
Stable, colorless, odorless, and meets ISO standards 22241 for purity and composition
Bestseller No. 7
BlueDEF DEF002 Diesel Exhaust Fluid - 2.5 Gallon Jug (10)
10 PACK
Compatibility: All SCR Systems
Unit Size: 2.5 Gallon
Helps Convert NOx Into Nitrogen Gas And Water Vapour - Two Harmless And Natural Components Of The Air We Breathe
Stable, Colorless And Odorless, And Meets ISO Standards 22241 For Purity And Composition
Bestseller No. 8
ACDelco 10-4023 Diesel Exhaust Emissions Reduction (DEF) Fluid - 2.5 gal (Pack of 2)
Meets GM Original Equipment specifications to be approved for use in GM vehicles as well as in non-GM diesel vehicles that have an SCR (Selective Catalytic Reduction) system to meet regulated NOx emissions
High quality formula is made from high purity urea and deionized water. It contains no chemical additives or other components that could cause SCR system failure
Includes vented nozzle(s) that make pouring easy by helping to prevent glugging
Has 1 complimentary nozzle. Extra nozzles sold separately
Bestseller No. 9
Bestseller No. 10
Last update on 2019-04-19 / Affiliate links / Images from Amazon Product Advertising API
Last update on 2019-04-19 / Affiliate links / Images from Amazon Product Advertising API