Service Update
18218 Propeller Shaft Disengage at Power Transfer Unit
| | | | |
| --- | --- | --- | --- |
| Reference Number: | N182162920 | Release Date: | June 2018 |
| | | Revision: | 00 |
| | |
| --- | --- |
| Attention: | This service update involves vehicles in dealer inventory only and will expire June 30, 2019. |
Make
Model
Model Year
RPO
Description
From
To
Buick
Regal
2017
2019
F46
Chassis Drive Line – All Wheel Drive (AWD)/Four Wheel Drive (4WD)
This service update should be performed on vehicles in dealer inventory only. Involved vehicles are marked "open" on the Investigate Vehicle History screen in GM Global Warranty Management system. This site should always be checked to confirm vehicle involvement prior to beginning any required inspections and/or repairs.
| | |
| --- | --- |
| Condition | All 2017-2019 model year Buick Regal vehicles, equipped with AWD (RPO F46), may have a condition in which the front portion of the propeller shaft slips out of the Power Transfer Unit (PTU) and drags on the roadway. The driver may hear a dragging noise from beneath the vehicle, but there will be no driver information center/cluster warning messages. |
| Correction | Dealers are to re-seat the propeller shaft to the PTU and rear differential carrier assembly. |
Parts
No parts are required for this repair.
Warranty Information
| Labor Operation | Description | Labor Time | Trans. Type | Net Item |
| --- | --- | --- | --- | --- |
| 9103931 | Re-seat driveshaft into PTU | 0.3 | ZFAT | N/A |
Service Procedure
Lift the vehicle. Refer to Lifting and Jacking the Vehicle in SI.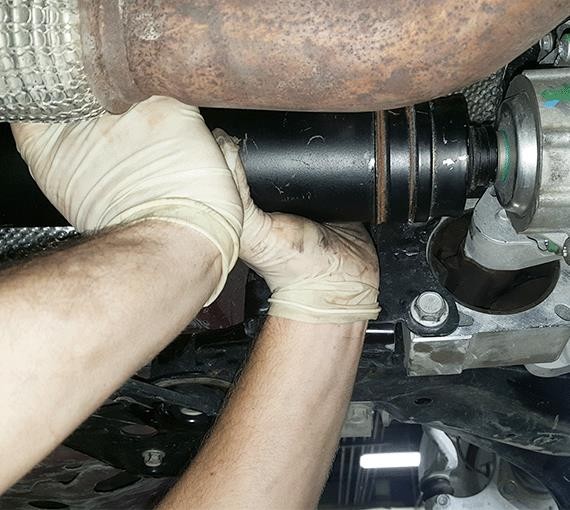 Using both hands, push forward firmly on the driveshaft several times as shown to ensure it is snapped into the Power Transfer Unit (PTU) fully.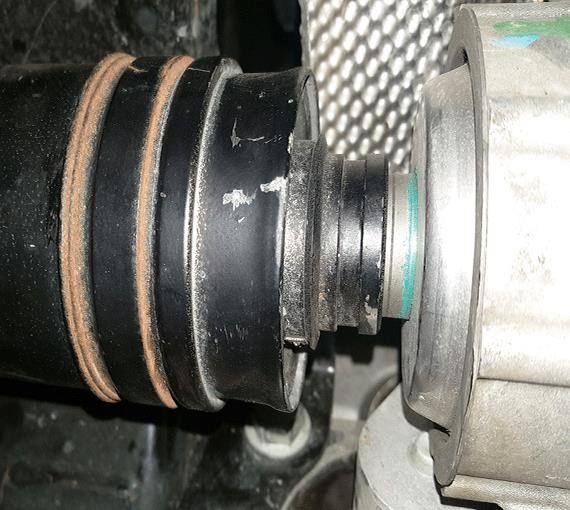 The driveshaft-to-PTU interface should look as shown when the driveshaft is fully seated. Repeat step 2 as necessary until the driveshaft is fully engaged in the PTU as shown. If you pull on the driveshaft at this point, there should be no movement.
Lower the vehicle. Refer to Lifting and Jacking the Vehicle in SI.
Dealer Responsibility
Dealers must take the steps necessary to ensure that the service update correction has been made to all involved vehicles in dealer inventory before selling or dealer-trading the vehicle, but no later than June 30, 2019.
All new, used, GM Certified Used, courtesy transportation vehicles, dealer shuttle vehicles, etc. in dealers' possession and subject to this bulletin must be held and inspected/repaired per the service procedure of this bulletin before customers take possession of these vehicles. Involved vehicles must be held and not delivered to customers, dealer-traded, released to auction, used for demonstration, or any other purpose.
All GM Certified Used vehicles currently in the dealers' inventory within the Certified Pre-Owned Inventory System (CPOIS) will be de-certified and must be held and remedied per the service procedure in this bulletin. Upon submitting an accepted/paid warranty transaction in the Global Warranty Management (GWM) system, the vehicle can be re-certified for sale within the CPOIS system, or once again be used in the CTP program.
---
18218
June 2018
https://www.nhtsa.gov/recalls?nhtsaId=10143746
https://static.nhtsa.gov/odi/tsbs/2018/MC-10143746-9999.pdf
---
Sale
Bestseller No. 1
Sale
Bestseller No. 2
Bestseller No. 3
Mobil 1 104361 75W-90 Synthetic Gear Lube - 1 Quart (Pack of 12)
Material code - 98W573
Helps to extend gear and bearing life due to minimal deposits
Capability to handle some of the severest driving conditions while delivering smooth, efficient and reliable performance
Helps to retain viscosity and film strength under severe operating conditions to prevent wear
Improved fuel economy and reduced operating costs
Sale
Bestseller No. 4
Valvoline 75W-90 SynPower Full Synthetic Gear Oil - 1qt (Case of 12) (VV975-12PK)
Thermal Protection: Provides outstanding thermal stability for cleanliness and longer service life
Corrosion Protection: Protects parts from rust and corrosion
Reduces Chattering: Contains special additives to reduce chattering in limited-slip differentials
Wear Protection: Contains additives to assist in protecting gear teeth
For any product use or product technical questions call 1-800-TEAM-VAL
Bestseller No. 5
Sale
Bestseller No. 6
Sale
Bestseller No. 7
Bestseller No. 8
StarFire Full Synthetic 75W90 Gear Lubricant 5 Gallon Pail
Provides excellent protection against wear under extreme pressure and high torque operation
High resistance to thermal breakdown
Helps prevent foaming, rust, and corrosion
Smooths and quiets operation
Protects against oxidative degradation
Bestseller No. 9
Bestseller No. 10
Mobil 1 75W-90 Synthetic Gear Lube LS
Exceptional thermal stability and resistance to high temperature oxidation Extended gear and bearing life due to minimal deposits. Promotes Longer seal life and Potentially extended oil drain or service intervals
Outstanding protection against low speed or high torque wear and against high speed scoring with capability to handle the severest driving conditions while delivering smooth efficient and reliable performance
Exceptional shear stability. Retains viscosity and film strength under severe operating conditions to prevent wear
Excellent rust, staining and corrosion protection of copper and its alloys. Reduced wear with Longer component life
Excellent limited-slip performance. Reduced chatter and improved traction
Last update on 2019-04-19 / Affiliate links / Images from Amazon Product Advertising API
Last update on 2019-04-19 / Affiliate links / Images from Amazon Product Advertising API