Bulletin No.: 16-NA-268
Date: August, 2016
---
| | |
| --- | --- |
| Involved Region or Country | North America and China |
| Condition | Some customers may comment that the windshield wipers may become erratic and/or inoperative. |
| Cause | This condition may be due to the windshield wiper transmission linkage becoming separated. |
Correction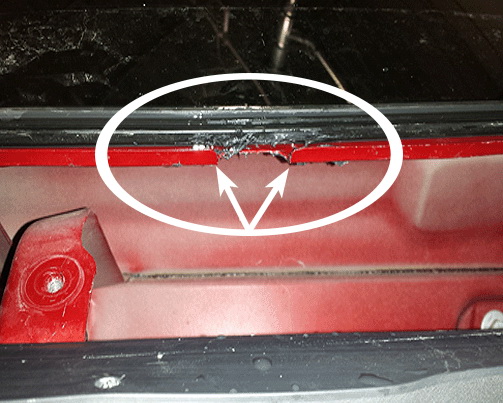 Replace the wiper motor, transmission/linkage and modify the upper plenum cutout, which is located just inboard of the steering column assembly as shown above, following the procedure listed below:
Service Procedure
Remove the windshield wiper motor. Refer to Windshield Wiper Motor Replacement in SI.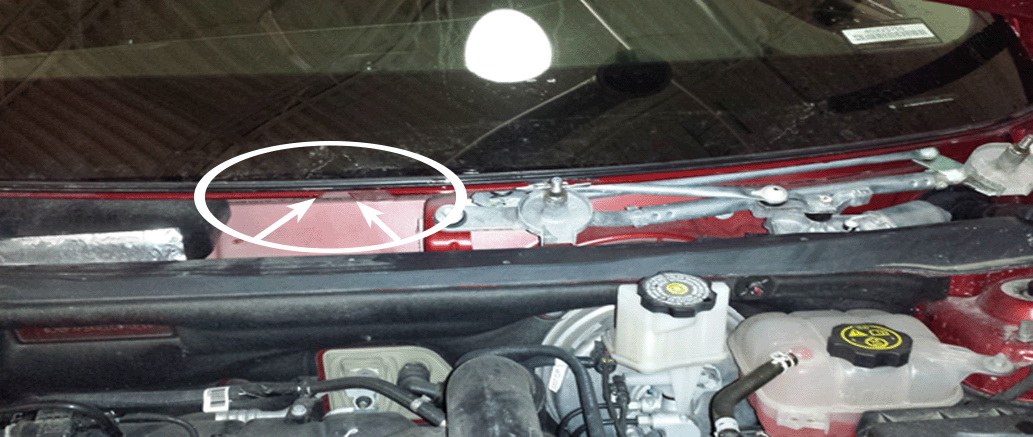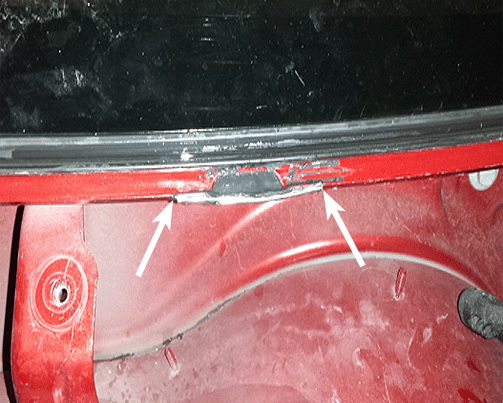 Cut one strip from the deadener 60 mm X 40 mm (2.36 in X 1.57 in) and apply to the underside of the plenum, located just above the steering column area, as shown in the illustrations above, so that it wraps over and folds on itself.
Note: The plenum cutout should now be flush with the gutter so that water will run down away from the wiper motor.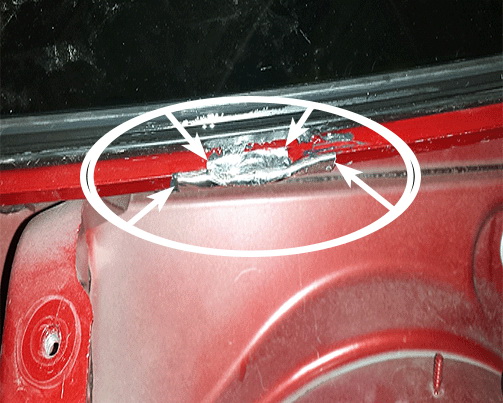 Cut another strip from the deadener 50 mm X 15 mm (1.96 in X 0.59 in) and apply on the upper side of the cutout to protect the exposed adhesive surface.
Reinstall the windshield wiper motor.
Parts Information
Description
Material Allowance
Part Number
Qty
MOTOR ASM-WSW
–
23445035
1
TRANSMISSION ASM-WSW
23445034
1
DEADENER-FRT S/D (150MM X 150MM X 2MM)*
$4.35 USD (per vehicle)

$5.70 Canada (per vehicle)

25777560
1
*There is enough material to do approximately 1 vehicle. Store the remaining material for future use.
Warranty Information
For vehicles repaired under the Bumper-to-Bumper coverage (Canada Base Warranty coverage), use the following labor operation. Reference the Applicable Warranties section of Investigate Vehicle History (IVH) for coverage information.
Labor Operation
Description
Labor Time
1480728*
Modifying the Upper Plenum Cutout Area
0.9 hr**
*This is a unique Labor Operation for Bulletin use only.
**This repair includes Wiper Motor and Transmission Assembly replacement.
---
16-NA-268
August, 2016
https://www.nhtsa.gov/recalls?nhtsaId=10082514
https://static.nhtsa.gov/odi/tsbs/2016/SB-10082514-5448.pdf
---
Bestseller No. 1
Prestone AS658-6PK Deluxe 3-in-1 Windshield Washer Fluid, 1 Gallon (Pack of 6)
Specially engineered to keep your windshield clear, no matter the weather
De-icer melts ice fast and protects against freezing down to -27F
Bug Wash penetrates the toughest residue to break down and easily remove bugs
Water repellent advanced beading technology leaves no streaks and is glare free
Removes insect deposits and road grime in the summer and improves winter driving visibility
Sale
Bestseller No. 2
303 (230371) Instant Windshield Washer, 25 Tablet
Super-concentrated with 3 times the cleaning power of ordinary wash
Each table makes one gallon of top quality cleaner
Easy to use, simple add 1 tablet to 1 gallon of water or drop in reservoir of clean water
Dissolves completely to remove bugs, road film, dirt and grime
Economical solution, 303 Instant Winshield Washer Tablets significantly reduce the amount of plastic containers in landfills
Bestseller No. 3
Prestone AS657 Bug Wash Windshield Washer Fluid, 1 Gallon
Advanced windshield washer fluid removes bug residue, road grime, bird droppings, and tree sap from windshields
Power Cleaner penetrates the toughest residues, breaking down and removing up to 99.99 percent of all bugs
Bug Stopper forms a barrier to help stop bugs, road grime, and other residues from sticking to your windshield
Water Repellent Advanced Beading repels rain for streak-free driving visibility
Cleans to a powerful streak-free shine with a fresh citrus scent
Bestseller No. 4
Sale
Bestseller No. 5
Bestseller No. 6
Bestseller No. 7
Bestseller No. 8
Sale
Bestseller No. 9
Bestseller No. 10
Last update on 2019-04-19 / Affiliate links / Images from Amazon Product Advertising API
Last update on 2019-04-19 / Affiliate links / Images from Amazon Product Advertising API