Bulletin No.: PI1116A
Date: 14-Sep-2016
| | |
| --- | --- |
| Subject: | Door Rattle Noise from Outside of Vehicle During High Radio Volume or High Bass Levels |
| Models: | 2014-2016 Chevrolet Corvette |
| Attention: | This PI also applies to any of the above models that may be Export from North America vehicles. |
---
This PI has been revised to remove a breakpoint and add the 2015-2016 Model Years. Please discard PI1116.
---
Condition/Concern
Some customers may comment on hearing a driver or passenger front side door rattle noise during high radio volume or high bass levels. The noise is most commonly described as more evident from outside the vehicle rather than inside.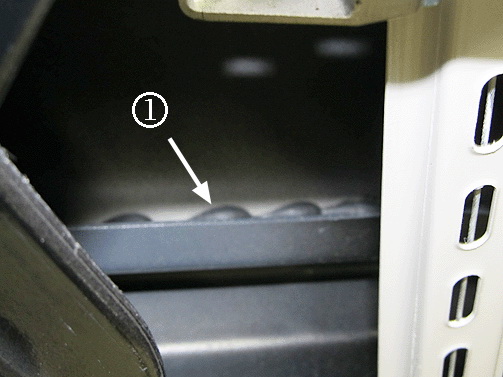 The cause of this condition may be voids in adhesive (1), leaving gaps between the inner door beam and the door skin.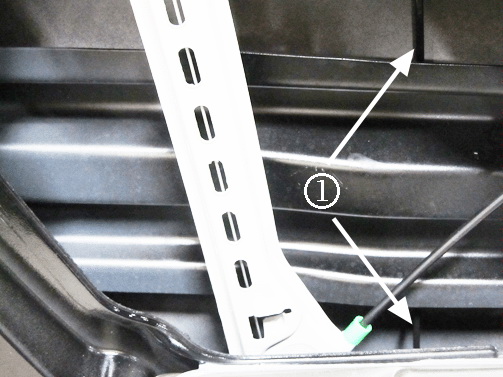 The graphic above shows an example in which a tie strap (1) was passed through a 15-20 cm (6-8 in) length gap where the adhesive was missing towards the center of the door.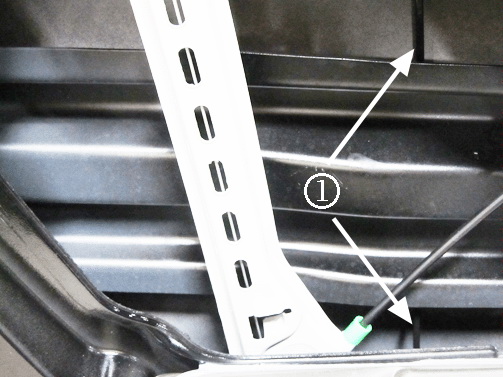 This can also occur in the front and/or rear area of the door beam; with the condition sometimes more evident in the front area (shown above) where the radio speaker is mounted.
Recommendation/Instructions
Inspect the front side door beam and door skin gap for voids and add a bead of butyl ribbon sealer in those areas following the steps below: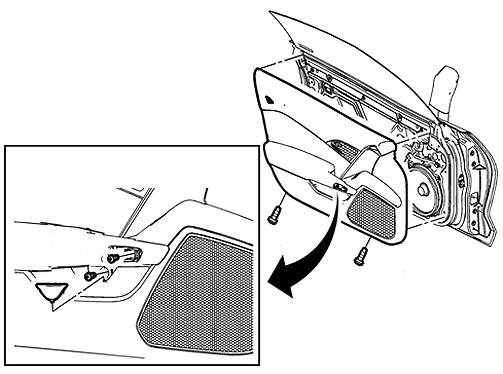 Remove the door trim panel. Refer to Front Side Door Trim Replacement in SI.
Peel down the door water deflector enough to access the inner door.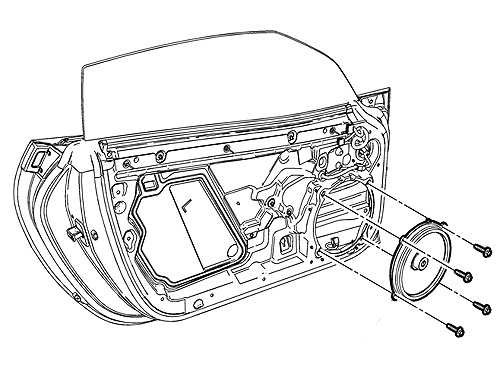 Inspect the gap between the inner door beam and door skin for voids in the adhesive.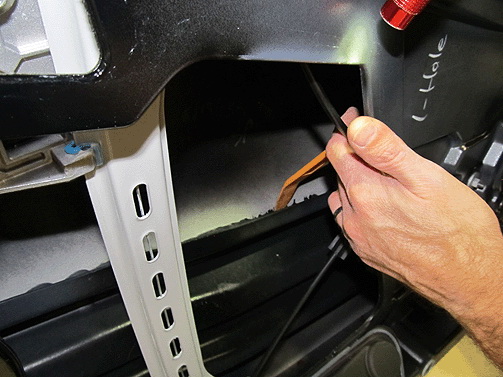 Tip: Use of a trim stick, or equivalent tool, may help to work the sealer into the gap.
Add a bead of *3M Windo-Weld Ribbon Sealer P/N 08611, or equivalent, to the areas where adhesive is missing. Work the sealer so there is a continuous bead in the gap from the rear of the door beam to the front.
Reinstall the front door lower speaker and test to make sure the rattle noise is eliminated. Refer to Radio Front Side Door Speaker Replacement in SI.
Reposition the water deflector and reinstall the door trim panel. Refer to Front Side Door Trim Replacement in SI.
Parts Information
*We believe this source and their products to be reliable. There may be additional manufacturers of such products/materials. General Motors does not endorse, indicate any preference for, or assume any responsibility for the products or material from this firm or for any such items that may be available from other sources.
Warranty Information
For vehicles repaired under warranty, use:
Labor Operation
Description
Labor Time
1480168*
Add Adhesive to Front Door Inner Beam
0.6 hr
*This is a unique Labor Operation for Bulletin use only.
---
Bulletin No.: PI1116A
Date: 14-Sep-2016
https://www.nhtsa.gov/recalls?nhtsaId=10118980
https://static.nhtsa.gov/odi/tsbs/2016/MC-10118980-9999.pdf
---
PI1116
https://www.nhtsa.gov/recalls?nhtsaId=10073506
https://static.nhtsa.gov/odi/tsbs/2013/SB-10073506-5448.pdf
---
Bestseller No. 1
Bestseller No. 2
Perfect End Thread Burner - PEN-510.00 by EuroTool
The tip heats to red hot at the touch of a button and melts synthetic threads so that they don't unravel.
Powered by one AA battery (included).
The Perfect End Thread Burner is reasonably priced and the ultimate tool for bead stringers.
End the fray! Why didn't someone think of this before?
The original BeadSmart Thread Burner by EURO TOOL is perfect for stopping frayed ends of thread on embellishments peyote stitch or anywhere raw ends need to be eliminated. Cuts and cauterizes!
Bestseller No. 3
Second Skin Butyl Sealant Tape – Sound Deadening and Multi-purpose Butyl Rope for All Vehicles (Car, RV, Marine) – 3/8" x 15' – Made in the USA
Damplifier Butyl Rope is a premium grade, sound deadening material and thermal insulation butyl rubber sealant tape that is pliable, sticky, and tough enough for any project.
This butyl tape belongs in your tool box. Waterproof, chemical resistant, temperature resistant to 250 F, very pliable to flatten or stretch - our customers prefer it over glue or other sealant tapes.
3/8" thick so it can fill thicker gaps, but flexible to flatten it out as thin as you want. Just make sure you clean any area before applying the sound deadening material.
Used to create a seal or deaden sound on all types of vehicles (Cars, RVs, Boats) and around the house (windows, screen doors, sky lights, vents). It sticks to everything to deaden sound and create a watertight seal, making it an excellent window weld. It also re-attaches vapor barriers, mounts subs to sub woofer boxes, and is the perfect taillight and headlight sealant. - we get a call once a week with a new use!
Proudly made in the USA
Sale
Bestseller No. 4
Heated Ribbon Cutter by We R Memory Keepers
ALL-IN-ONE TOOL: Handy tool cuts and heat seals ribbon up to 3-inches wide so there is no fraying.
VERSATILE: Cut straight or angled cuts with various styles of points.
BUILT TO LAST: Ribbon cutter is built with high-quality materials. Requires four AA batteries (not included). Replacement wires also available (sold separately).
Bestseller No. 5
Bestseller No. 6
Sale
Bestseller No. 7
Bestseller No. 8
Imaginisce i-magicut Ribbon Cutter
This package contains one ribbon cutter & sealer
Accurately cut and seal ribbons up to 3 inches wide
This tool cuts straight, angled, and various styles of points then seals the end so there is no fraying
Bestseller No. 9
Butyl Tape .25in X 10 ft
Great for some late model vehicles, vans and heavy equipment
Solid core butyl
Consult manufacturer before using to seal windshields in vehicles
1/4 inch x 10 ft
Bestseller No. 10
Last update on 2019-04-18 / Affiliate links / Images from Amazon Product Advertising API
Last update on 2019-04-18 / Affiliate links / Images from Amazon Product Advertising API